Product Description
Product

Standard Double Pitch Roller chain

Material

40Mn steel,304 stainless steel, 316 stainless steel and 201 stainless steel.

Types

Standard chains and special chains, such as A or B series chains, roller chains, driving chains, conveyor chains, hoisting chains, agricultural chains, sprockets, gears, wheels and so on.

Series

 A series(12.7-50.8mm pitches),B series (9.525-50.8mm pitches)and the heavy series.

Short pitch precision roller chain

Simplex Roller Chains&Bushing Chains: 

04C-1,06C-1,085-1,08A-1,10A-1,12A-1,16A-1,20A-1,24A-1,28A-1,32A-1,36A-1,40A-1,48A-1
Duplex Roller Chains&Bushing Chains:

04C-2,06C-2,085-2,08A-2,10A-2,12A-2,16A-2,20A-2,24A-2,28A-2,32A-2,36A-2,40A-2,48A-2
Triplex Roller Chains&Bushing Chains:

04C-3,06C-2,085-3,08A-3,10A-3,12A-3,16A-3,20A-3,24A-3,28A-3,32A-3,36A-3,40A-3,48A-3

Chain link type

Standard links (without attachment) and non-standard links (with attachment).

 

A1: One-side,one hole cranked attachments.
A2: One-side,two holes cranked attachments.
K1: Both-side,one hole cranked attachments.
K2: Both-side,two hole cranked attachments.
D1: One-side,an extended pin on every outer link.
D3: One-side,two extended pin on every outer link.

Our Products Advantage

1. Every step from production order to the packing process has a strict quality inspection.
2. We have standard roller chain with 1.5 CZPT (DIN. ANSI.); Non-standard roller chain (customized acording to customer drawings).
3. Export products with high quality and low price.
4.We have a good service before and after-sale.
1.Fast delivery: Standard products can be delivered in as fast as 20 days
2.Good service: timely reply, prompt quotation, responsible for the product
3.High cost performance: can maintain price stability for a certain period of time, bringing greater profits to customers
4.Good quality: production and testing have corresponding supervision to ensure product quality and get high praise from customers
5.OEM service: products can be customized according to drawings and requirements
We are responsible for the ordered products. We are very confident in the products we produce. Of course, if you have any problems after receiving the goods, you can contact us directly. We will confirm and negotiate in time to solve your difficulties.
Shipping Cost:

Estimated freight per unit.





To be negotiated
| | |
| --- | --- |
| Material: | Alloy |
| Structure: | Roller Chain |
| Surface Treatment: | Polishing |
Samples:

US$ 35/kg

1 kg(Min.Order)

|

Order Sample
Customization:

Available

|

Customized Request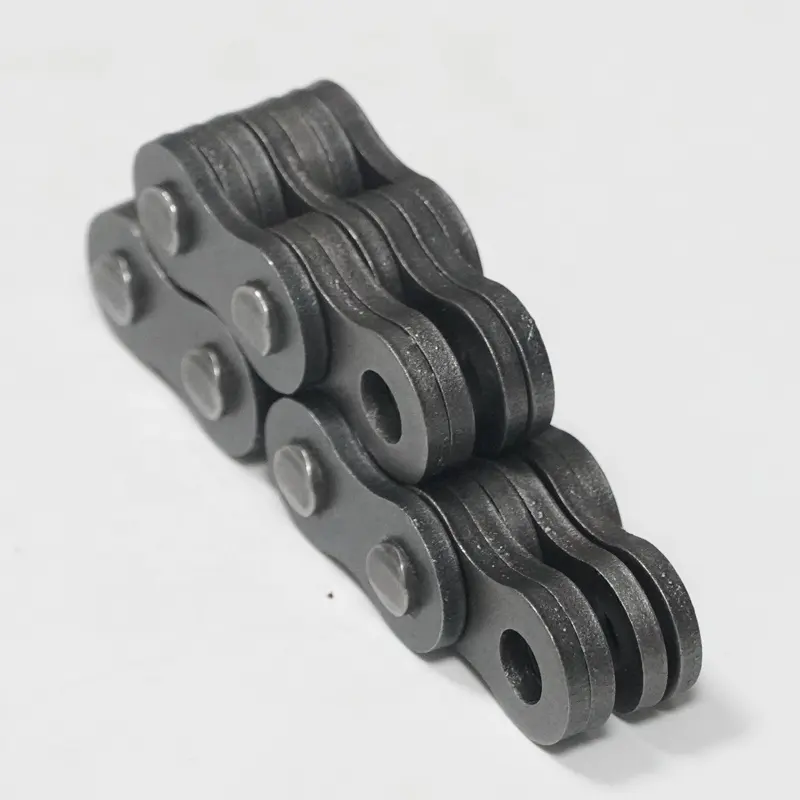 How do leaf chains handle reverse motion or anti-reverse requirements?
Leaf chains are designed to handle reverse motion or anti-reverse requirements in lifting applications. They offer a unique design that prevents the chain from backtracking, ensuring the load remains securely in place even during sudden stops or reversals.
The anti-reverse feature in leaf chains is achieved through their construction. Leaf chains consist of link plates connected by pins and retainers, forming a continuous loop. The link plates have a shape that allows them to interlock with one another, creating a self-locking mechanism.
When the chain experiences a reverse motion or tries to move backward, the interlocking link plates engage and resist the motion, effectively preventing the load from descending unintentionally. This anti-reverse capability is crucial for ensuring the safety of lifting operations and protecting both the load being lifted and the equipment.
In addition to their anti-reverse characteristics, leaf chains also offer smooth and quiet operation during forward motion, making them suitable for various lifting applications where controlled and precise movement is essential.
It is important to note that proper maintenance and periodic inspections are necessary to ensure the anti-reverse feature of leaf chains remains effective. Regular lubrication and prompt replacement of worn or damaged components can help maintain the chain's reliable performance in handling reverse motion requirements.
In summary, leaf chains possess inherent anti-reverse capabilities due to their interlocking link plate design, making them suitable for lifting applications that involve frequent changes in motion direction while maintaining load security and stability.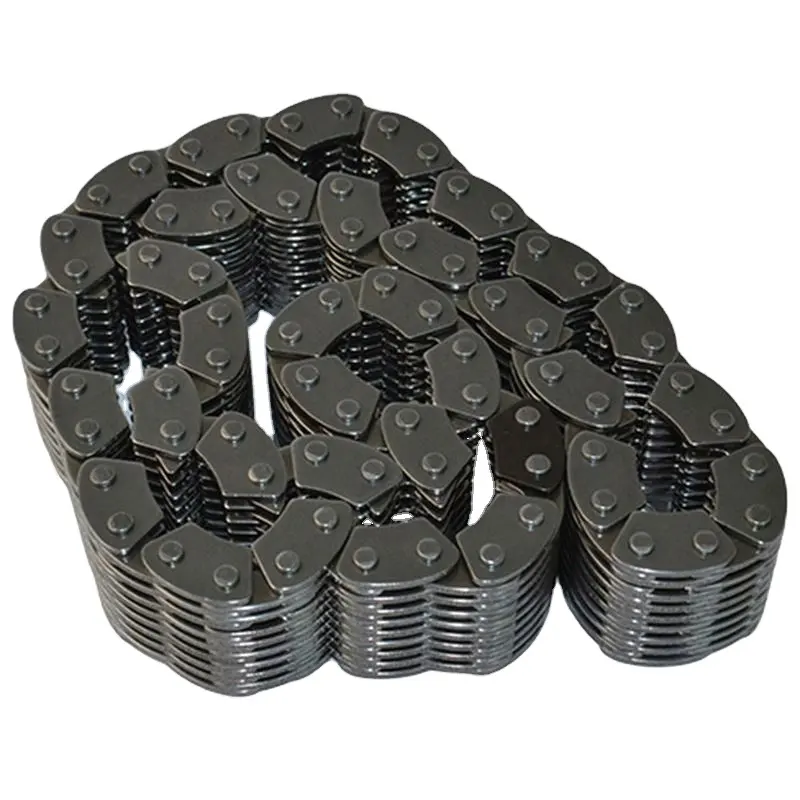 Can leaf chains be used in telescopic cranes and mobile cranes?
Yes, leaf chains can be used in telescopic cranes and mobile cranes for various lifting and hoisting applications. These types of cranes often require robust and reliable lifting components, and leaf chains are well-suited for these demanding tasks.
Here's why leaf chains are suitable for use in telescopic and mobile cranes:
High Strength: Leaf chains are designed to provide high tensile strength, making them capable of handling heavy loads typically encountered in crane operations.
Flexibility: Telescopic cranes require chains that can handle both the extension and retraction of the boom. Leaf chains offer flexibility and can accommodate the varying lengths of the telescopic sections.
Durability: Mobile cranes operate in diverse environments, and leaf chains made from high-quality alloy steel with appropriate surface treatments can withstand harsh conditions and resist wear and tear.
Reliability: Leaf chains are known for their reliability and resistance to fatigue, ensuring smooth and consistent operation during the crane's lifetime.
Cost-Effective: Leaf chains offer a cost-effective solution for heavy-duty lifting applications, making them a preferred choice for many crane manufacturers and operators.
When using leaf chains in telescopic and mobile cranes, proper maintenance and regular inspections are essential to ensure safe and efficient crane operation. Regular lubrication, monitoring for signs of wear, and addressing any issues promptly will help extend the life of the leaf chains and contribute to overall crane safety.
It's important to follow the manufacturer's guidelines and recommendations for the selection, installation, and maintenance of leaf chains in telescopic and mobile crane applications to optimize performance and ensure the safety of crane operators and nearby personnel.



editor by CX 2023-08-16