Product Description
LL Series Light Duty Leaf Chains
Our forklift leaf chain meet DIN, ANSI, ISO, BS, JS standard, and our chains stand up to the toughest working environments
Leaf Chains – Lifting and Pulling Chains – Haulage Chains
AL Series Light Duty Leaf Chains: AL422 – AL1666
BL (LH) Series Heavy Duty Leaf Chains: BL422 – BL2088
BL (LH) Corrosion Resistant Leaf Chains: BL422DT – BL1088
LL Series Light Duty Leaf Chains (ISO 4347, DIN 8152): LL0822 – LL3266
Stainless Steel Leaf Chains (AL and Bl/LL series) on request.
Car Parking Chain: 80LT – 120LT
Galle Chain (DIN 8150): 1520 120180
Bar and Pin Chain (Stud Chain): BP2104 – BP2136
Draw Bench Chains (DIN 8156 & DIN 8157): DB and BD Series
Heavy Duty Straight Sidebar Chain: Z2814 – Z5628
Standard Bucket Elevator Chains: DT150 – DT250
Round Link Chains for Lifting Applications
Roller Chain and Bush Chain for Lifting Applications
Our leaf chain is widely used in industrial field such as fork CZPT and so on
Our quality is reliable and meet ISO standard and exported in big quantity
There are grey colour, shot peened, blue, black, yellow colour chain plate available.
There are grease and anti-rust oil available for lubrication for chain
We can produce as per your drawing or sample and we can also help you to design the chain to meet your special request.
P
P
d1(max)
b1(min)
Pt
N
N
h2(max)
Q
Q
Q
in
mm
mm
mm
mm
mm
KN
KN
KN
60
3/4″
19.05
11.91
12.70
22.78
1099
1833
18.08
31.27
62.54
93.81
80
1″
25.40
15.87
15.88
29.29
1944
3238
24.13
55.60
111.20
166.80
100
11/4″
31.75
19.05
19.05
35.76
2825
4715
30.18
86.84
173.68
260.52
120
11/2″
38.10
22.22
25.40
45.44
3821
6361
36.20
125.10
250.20
375.30
140
13/4″
44.45
25.4
25.40
48.87
4982
8363
42.24
170.27
340.54
510.81
160
2″
50.80
28.57
31.75
58.55
6316
10542
48.26
222.40
444.80
667.20
180
21/4″
57.15
35.71
35.71
65.84
9430
15747
54.31
281.57
563.14
844.71
200
21/2″
63.50
39.67
38.10
71.55
12188
2571
60.33
347.41
694.82
1571.23
240
3″
76.20
47.62
47.62
87.83
15747
23931
72.39
500.40
1000.80
1501.30
| | |
| --- | --- |
| Usage: | Transportation Chain |
| Material: | Alloy/Carbon Steel |
| Surface Treatment: | Polishing |
| Feature: | Heat Resistant |
| Chain Size: | 1/2"*3/32" |
| Structure: | Leaf Chain |
Customization:

Available

|

Customized Request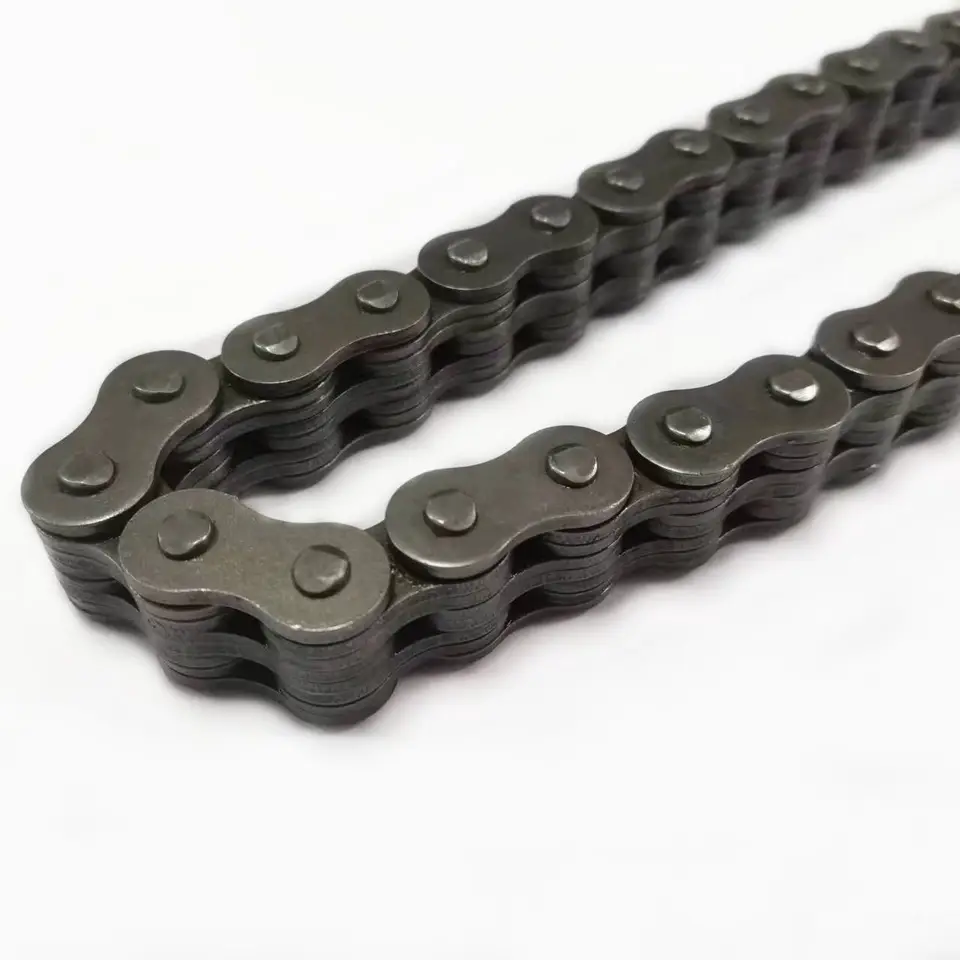 What are the environmental considerations when using leaf chains?
When using leaf chains, several environmental factors should be taken into account to ensure optimal performance and longevity:
1. Temperature and Weather Conditions: Leaf chains may be exposed to a wide range of temperatures, from extreme cold to high heat. Adequate lubrication and material selection are essential to prevent chain failure in extreme weather conditions.
2. Corrosion and Chemical Exposure: In environments with high humidity, moisture, or chemical exposure, leaf chains may be susceptible to corrosion and degradation. Choosing corrosion-resistant materials and regular maintenance can mitigate these effects.
3. Contaminants and Dust: Dust, dirt, and other contaminants can accumulate on the chain, leading to accelerated wear and reduced performance. Regular cleaning and lubrication are vital to prevent premature failure.
4. Load and Usage Patterns: Consider the load capacity and usage patterns of the chain in the specific environment. Heavy loads, continuous operation, and shock loads can impact the chain's wear rate and fatigue life.
5. Environmental Regulations: Some applications, such as those in the food or pharmaceutical industries, may have strict regulations regarding the materials and lubricants used in the chains to ensure they are safe for use in such environments.
6. Noise and Vibration: Certain environments may have noise and vibration restrictions. Proper chain maintenance and lubrication can help reduce noise levels and vibration.
7. Sustainability: Consider the environmental impact of chain materials and lubricants used. Opt for environmentally friendly options when possible to promote sustainability.
Overall, understanding the environmental conditions and selecting the appropriate chain materials and lubrication are crucial to ensure leaf chains perform optimally and have an extended service life in various applications. Regular inspection, maintenance, and compliance with environmental regulations will contribute to safe and efficient chain operation while minimizing the impact on the surrounding environment.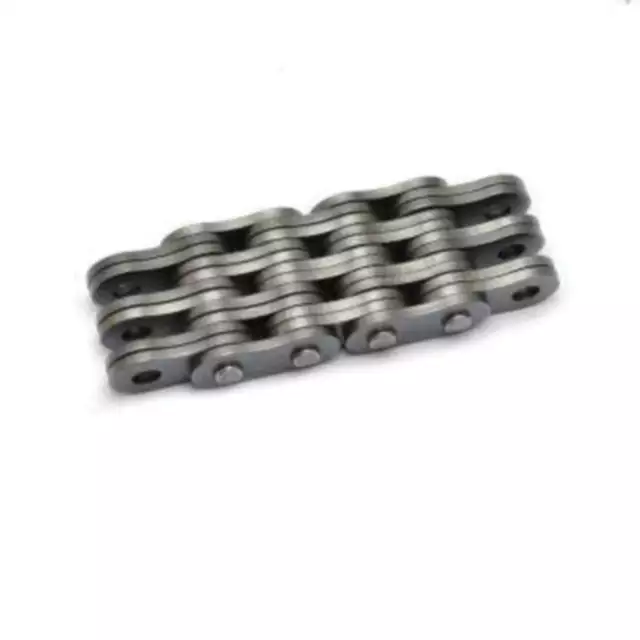 What are the safety certifications and standards for leaf chains?
Leaf chains used in lifting and rigging applications are subject to various safety certifications and standards to ensure their reliability and performance. Some of the common safety certifications and standards that apply to leaf chains include:
ISO 4347: This standard specifies the requirements and test methods for leaf chains for general lifting applications. It covers dimensions, strength, and performance characteristics to ensure safe usage.
ASME B29.8: The American Society of Mechanical Engineers (ASME) standard B29.8 covers leaf chains, including design, dimensions, and minimum performance requirements for leaf chains used in industrial applications.
EN 818: European Norm (EN) 818 defines the safety requirements for various types of lifting chains, including leaf chains, used in the European Union.
DIN 8152: Deutsches Institut für Normung (DIN) standard 8152 outlines the design and construction requirements for leaf chains used in lifting and materials handling.
CE Certification: Leaf chains, like other lifting equipment, may require CE certification to indicate compliance with European safety directives.
When selecting leaf chains for specific lifting applications, it is essential to ensure that they meet the necessary safety certifications and standards. Using certified leaf chains helps ensure the safety of lifting operations, reduces the risk of accidents, and provides confidence in the reliability and performance of the equipment.



editor by CX 2023-08-04