Product Description
LL Series Light Duty Leaf Chains
Our forklift leaf chain meet DIN, ANSI, ISO, BS, JS standard, and our chains stand up to the toughest working environments
Leaf Chains – Lifting and Pulling Chains – Haulage Chains
AL Series Light Duty Leaf Chains: AL422 – AL1666
BL (LH) Series Heavy Duty Leaf Chains: BL422 – BL2088
BL (LH) Corrosion Resistant Leaf Chains: BL422DT – BL1088
LL Series Light Duty Leaf Chains (ISO 4347, DIN 8152): LL0822 – LL3266
Stainless Steel Leaf Chains (AL and Bl/LL series) on request.
Car Parking Chain: 80LT – 120LT
Galle Chain (DIN 8150): 1520 120180
Bar and Pin Chain (Stud Chain): BP2104 – BP2136
Draw Bench Chains (DIN 8156 & DIN 8157): DB and BD Series
Heavy Duty Straight Sidebar Chain: Z2814 – Z5628
Standard Bucket Elevator Chains: DT150 – DT250
Round Link Chains for Lifting Applications
Roller Chain and Bush Chain for Lifting Applications
Our leaf chain is widely used in industrial field such as fork CZPT and so on
Our quality is reliable and meet ISO standard and exported in big quantity
There are grey colour, shot peened, blue, black, yellow colour chain plate available.
There are grease and anti-rust oil available for lubrication for chain
We can produce as per your drawing or sample and we can also help you to design the chain to meet your special request.
P
P
d1(max)
b1(min)
Pt
N
N
h2(max)
Q
Q
Q
in
mm
mm
mm
mm
mm
KN
KN
KN
60
3/4″
19.05
11.91
12.70
22.78
1099
1833
18.08
31.27
62.54
93.81
80
1″
25.40
15.87
15.88
29.29
1944
3238
24.13
55.60
111.20
166.80
100
11/4″
31.75
19.05
19.05
35.76
2825
4715
30.18
86.84
173.68
260.52
120
11/2″
38.10
22.22
25.40
45.44
3821
6361
36.20
125.10
250.20
375.30
140
13/4″
44.45
25.4
25.40
48.87
4982
8363
42.24
170.27
340.54
510.81
160
2″
50.80
28.57
31.75
58.55
6316
10542
48.26
222.40
444.80
667.20
180
21/4″
57.15
35.71
35.71
65.84
9430
15747
54.31
281.57
563.14
844.71
200
21/2″
63.50
39.67
38.10
71.55
12188
2571
60.33
347.41
694.82
1571.23
240
3″
76.20
47.62
47.62
87.83
15747
23931
72.39
500.40
1000.80
1501.30
| | |
| --- | --- |
| Usage: | Transportation Chain |
| Material: | Alloy/Carbon Steel |
| Surface Treatment: | Polishing |
| Feature: | Heat Resistant |
| Chain Size: | 1/2"*3/32" |
| Structure: | Leaf Chain |
Customization:

Available

|

Customized Request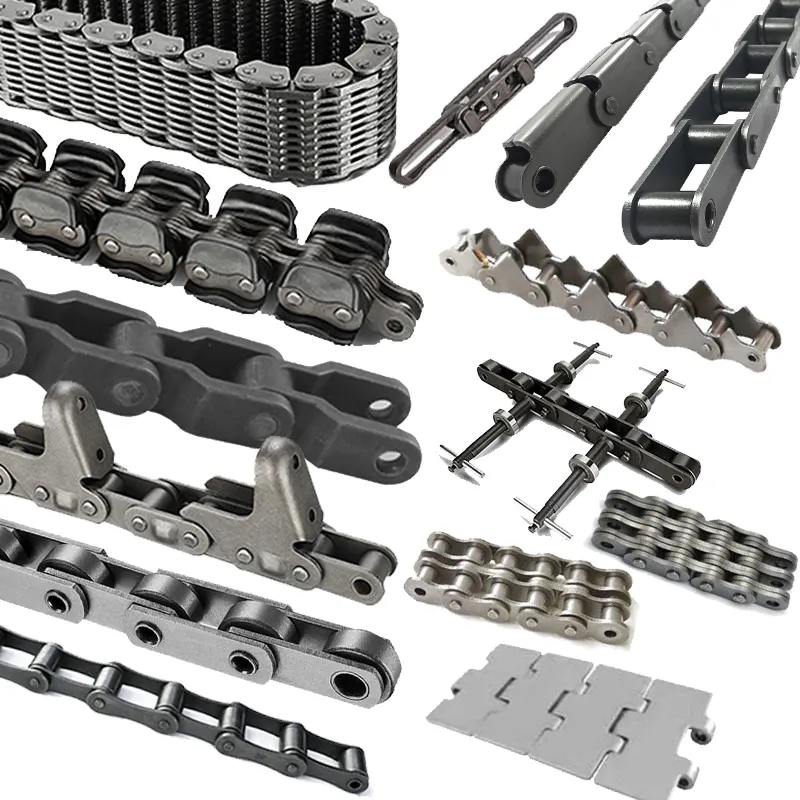 What are the safety considerations when working with leaf chains?
Working with leaf chains involves several important safety considerations to ensure the well-being of personnel and the proper functioning of the lifting equipment. Here are some key safety considerations:
Proper Installation: Leaf chains should be installed correctly according to the manufacturer's guidelines and specifications. Improper installation can lead to chain failure and accidents.
Regular Inspection: Regularly inspecting the leaf chains for signs of wear, damage, or misalignment is essential. Any issues should be addressed promptly to prevent potential hazards.
Load Limits: Adhere to the load limits specified by the chain manufacturer. Overloading the leaf chain can result in excessive stress and may cause it to fail.
Environmental Considerations: Consider the operating environment of the leaf chain, such as temperature, moisture, and chemical exposure. Some environments may require special chain coatings or materials for optimal performance and safety.
Training and Certification: Operators and maintenance personnel should receive proper training in the safe use, inspection, and maintenance of leaf chains. Certification may be required for specific lifting operations.
Chain Lubrication: Proper chain lubrication is essential to reduce friction, wear, and the risk of chain failure. Follow the manufacturer's recommendations for lubrication frequency and type.
Replacement of Worn Components: If any part of the leaf chain shows signs of wear or damage beyond acceptable limits, it should be replaced promptly with the appropriate spare part.
Clear Communication: Maintain clear communication among all personnel involved in the lifting operation to ensure coordinated and safe movements.
Emergency Procedures: Have clear emergency procedures in place in case of chain failure or accidents. This includes emergency stop controls and evacuation plans.
By following these safety considerations and adhering to industry standards and regulations, users can enhance the safety and reliability of working with leaf chains in lifting applications.
Remember that safety is paramount when working with any lifting equipment, and taking a proactive approach to safety can prevent accidents and injuries in the workplace.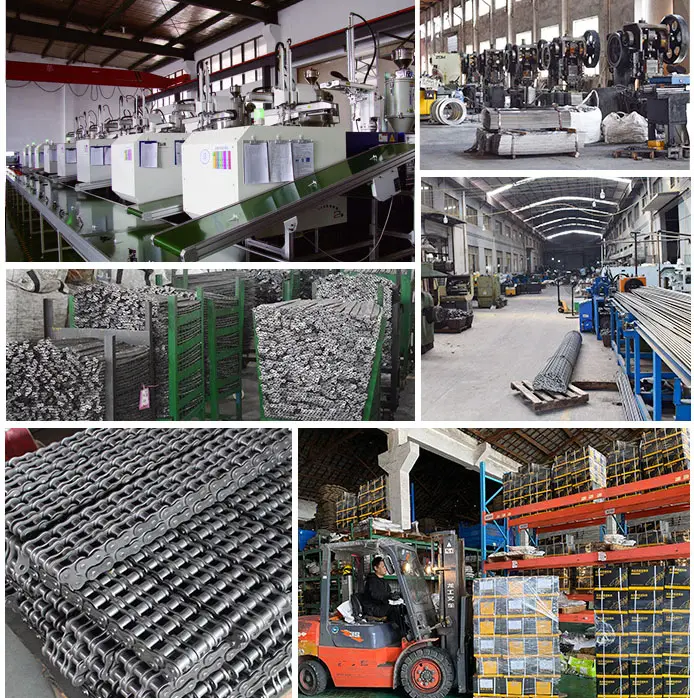 How do leaf chains handle extreme weather conditions such as rain or snow?
Leaf chains are designed to perform well in various environmental conditions, including rain and snow. However, their ability to withstand extreme weather depends on the material and surface treatment used in their construction.
Most leaf chains are made from high-quality alloy steel, which offers good resistance to corrosion and adverse weather conditions. Additionally, manufacturers may apply various surface coatings or treatments to enhance the chains' durability and protection against moisture.
Here's how leaf chains handle extreme weather conditions:
Corrosion Resistance: Leaf chains made from stainless steel or treated with corrosion-resistant coatings are better equipped to handle prolonged exposure to rain or snow. These chains are less likely to rust or corrode, ensuring their longevity in challenging weather environments.
Lubrication: Regular and proper lubrication of leaf chains can help protect them from moisture and reduce friction, even in wet conditions. Lubrication prevents the chains from seizing up and helps maintain their smooth operation.
Sealed Joints: Some leaf chain designs feature sealed joints or bushings that help keep contaminants, such as dirt, water, or snow, out of the chain's interior. This sealing minimizes the chances of foreign particles causing wear and damage to the chain components.
It is important to note that while leaf chains can handle rainy or snowy conditions, they may require more frequent maintenance in such environments. Regular inspections, cleaning, and lubrication will help ensure optimal performance and extend the lifespan of the chains.
When selecting leaf chains for applications exposed to extreme weather, it's essential to consider the environmental factors and consult with chain manufacturers or experts to choose the most suitable chain type and material for the specific weather conditions the chains will be exposed to.



editor by CX 2023-09-06