Product Description
BL (LH) Corrosion Resistant Leaf Chain
Our forklift leaf chain meet DIN, ANSI, ISO, BS, JS standard, and our chains stand up to the toughest working environments
Leaf Chains – Lifting and Pulling Chains – Haulage Chains
AL Series Light Duty Leaf Chains: AL422 – AL1666
BL (LH) Series Heavy Duty Leaf Chains: BL422 – BL2088
BL (LH) Corrosion Resistant Leaf Chains: BL422DT – BL1088
LL Series Light Duty Leaf Chains (ISO 4347, DIN 8152): LL0822 – LL3266
Stainless Steel Leaf Chains (AL and Bl/LL series) on request.
Car Parking Chain: 80LT – 120LT
Galle Chain (DIN 8150): 1520 120180
Bar and Pin Chain (Stud Chain): BP2104 – BP2136
Draw Bench Chains (DIN 8156 & DIN 8157): DB and BD Series
Heavy Duty Straight Sidebar Chain: Z2814 – Z5628
Standard Bucket Elevator Chains: DT150 – DT250
Round Link Chains for Lifting Applications
Roller Chain and Bush Chain for Lifting Applications
Our leaf chain is widely used in industrial field such as fork CZPT and so on
Our quality is reliable and meet ISO standard and exported in big quantity
There are grey colour, shot peened, blue, black, yellow colour chain plate available.
There are grease and anti-rust oil available for lubrication for chain
We can produce as per your drawing or sample and we can also help you to design the chain to meet your special request.
P
P
d1(max)
b1(min)
Pt
N
N
h2(max)
Q
Q
Q
in
mm
mm
mm
mm
mm
KN
KN
KN
60
3/4″
19.05
11.91
12.70
22.78
1099
1833
18.08
31.27
62.54
93.81
80
1″
25.40
15.87
15.88
29.29
1944
3238
24.13
55.60
111.20
166.80
100
11/4″
31.75
19.05
19.05
35.76
2825
4715
30.18
86.84
173.68
260.52
120
11/2″
38.10
22.22
25.40
45.44
3821
6361
36.20
125.10
250.20
375.30
140
13/4″
44.45
25.4
25.40
48.87
4982
8363
42.24
170.27
340.54
510.81
160
2″
50.80
28.57
31.75
58.55
6316
10542
48.26
222.40
444.80
667.20
180
21/4″
57.15
35.71
35.71
65.84
9430
15747
54.31
281.57
563.14
844.71
200
21/2″
63.50
39.67
38.10
71.55
12188
2571
60.33
347.41
694.82
1571.23
240
3″
76.20
47.62
47.62
87.83
15747
23931
72.39
500.40
1000.80
1501.30
Shipping Cost:

Estimated freight per unit.





To be negotiated
| | |
| --- | --- |
| Usage: | Transportation Chain |
| Material: | Alloy/Carbon Steel |
| Surface Treatment: | Polishing |
Customization:

Available

|

Customized Request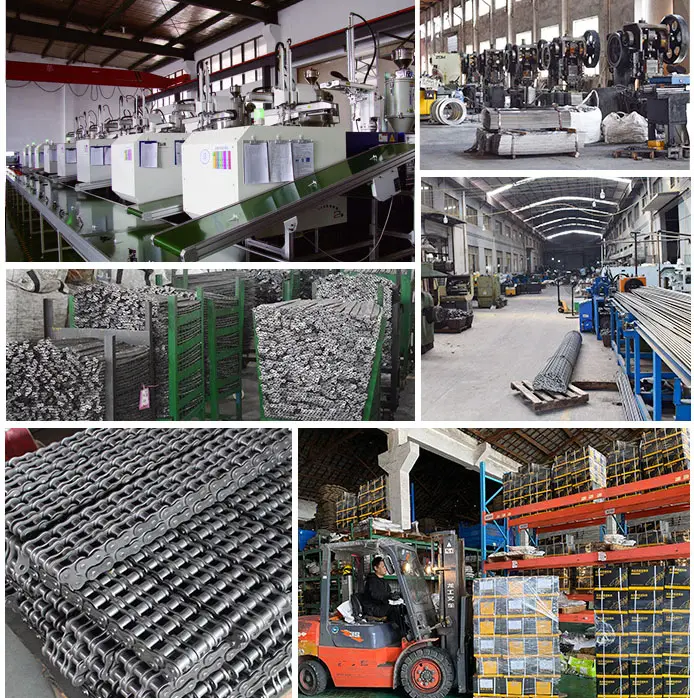 What are the benefits of using a leaf chain over other types of lifting systems?
Leaf chains offer several advantages over other types of lifting systems, making them a popular choice in various applications:
High Strength: Leaf chains are known for their high tensile strength, making them suitable for lifting heavy loads in demanding industrial settings.
Compact Design: Leaf chains have a simple and compact design, which allows them to fit into tight spaces and integrate well with different lifting mechanisms.
Flexibility: Leaf chains can handle both static and dynamic loads, providing flexibility in various lifting and pulling applications.
Cost-Effective: Compared to some other lifting systems, leaf chains often offer a cost-effective solution for lifting heavy loads and have lower maintenance requirements.
Reliability: Leaf chains are known for their reliability and durability, ensuring consistent performance over an extended period with proper maintenance.
Easy Installation: Leaf chains are relatively easy to install, reducing downtime during equipment setup or maintenance.
Shock Absorption: Leaf chains have some inherent shock-absorbing properties, which can be beneficial in applications where sudden forces or impacts are involved.
Due to their robust construction and ability to handle heavy loads, leaf chains are commonly used in forklift trucks, aerial work platforms, scissor lifts, and other industrial lift equipment. They are also found in various other lifting and rigging applications where a dependable and efficient lifting system is required.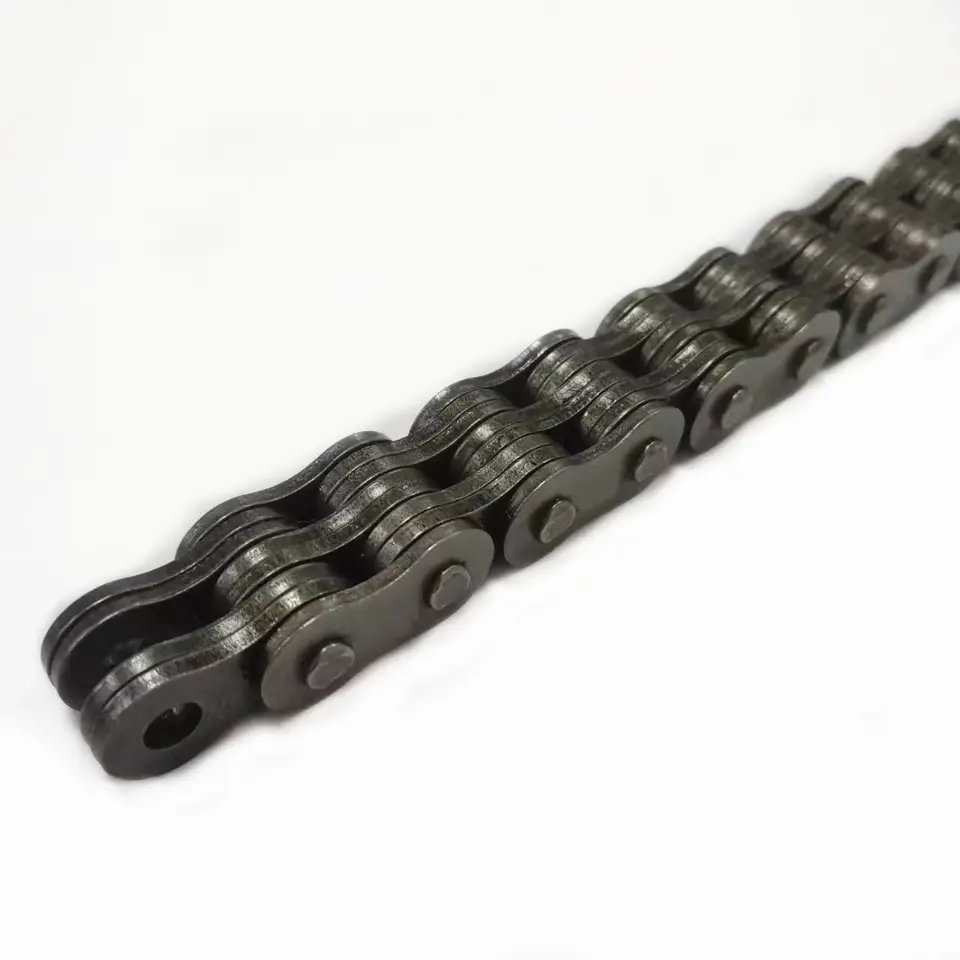 Can leaf chains be used in railway maintenance and repair equipment?
Yes, leaf chains can be used in railway maintenance and repair equipment, and they offer several advantages in such applications.
Railway maintenance and repair equipment, such as rail trolleys, lifting systems, and track maintenance machines, often require robust and reliable lifting and pulling mechanisms to handle heavy loads and perform maintenance tasks efficiently. Leaf chains are well-suited for these applications due to the following reasons:
High Load Capacity: Leaf chains are designed to handle heavy loads, making them suitable for lifting and pulling tasks involved in railway maintenance.
Durability: Leaf chains are constructed from high-quality materials and undergo precision manufacturing processes, ensuring their durability and resistance to wear and fatigue.
Low Stretch: Leaf chains have low elongation, providing accurate and consistent movement, which is essential in precise maintenance and repair tasks.
Wide Temperature Range: Leaf chains can operate effectively in a wide range of temperatures, making them suitable for railway maintenance equipment used in different environmental conditions.
Adaptability: Leaf chains are available in various sizes and configurations, making them adaptable to different railway maintenance and repair equipment.
Reliable Performance: Leaf chains offer stable and reliable performance, minimizing the risk of equipment failure during critical maintenance operations.
Whether it's lifting railway components, positioning track sections, or performing other maintenance tasks, leaf chains can provide the necessary strength and reliability required in railway maintenance and repair equipment.
However, it's essential to choose the appropriate chain size, ensure proper lubrication, and conduct regular maintenance to ensure optimal performance and safety in railway maintenance operations.



editor by CX 2023-08-18