Product Description
Al Ll FL Lh Bl Series Dacromet-Plated Truck Sky Stacker Car Parking Hoisting Machine Conveyor Leaf Chain for Forklift
Leaf chains are known for their durability and high tensile strength. They are primarily used in lift device applications such as forklifts, lift trucks, and lift masts. These hard working chains handle the lifting and balancing of heavy loads with the use of sheaves instead of sprockets for guidance. One of the primary differences with leaf chain compared to roller chain is that it only consists of a series of stacked plates and pins, providing superior lifting strength.
Leaf chains are built of interlaced plates held together by rivet pins. They are built with the same high degree of precision as our roller chains. HKK Leaf chains are used for applications that require strong flexible linkage for transmitting motion or lift. Specially selected steel and unique heat treatment assures high strength and durability. The first number or numbers in leaf chains identifies the chain pitch, the last 2 numbers identify the chain's lacing. New applications should use BL series leaf chains.
Leaf Chain is the most simple of steel chains, consisting only of link plates and pins. This chain generally has greater tensile strength than roller chains and runs over sheaves rather than sprockets. They are suitable for hanging, balancing or motion transmitting applications. Leaf chains are often used as counterweight chains for machine tools, elevator and oven doors, fork lift truck masts, spinning frames and similar lifting or balancing applications.
Plates are connected by pins and hold the tension loaded on the chain.
| | | | |
| --- | --- | --- | --- |
| Item Name | Standard transmission Roller Chains | Model | Series A, Series B |
| Row | Simplex/Duplex/Triplex | Application | Machinery Parts |
| Surface Treatment | Self-color/sand-blasted/shot-peening | Certification | ISO, ANSI, DIN, BS |
| Packing | Packaged in boxes and wooden cases, or packaged in reels and then on pallets. | Port | Any sea port or airport in China |
Related products
| | |
| --- | --- |
| Usage: | Transmission Chain, Drag Chain, Conveyor Chain, Dedicated Special Chain |
| Material: | Stainless steel |
| Surface Treatment: | Oil Blooming |
| Feature: | Oil Resistant |
| Chain Size: | 1/2"*3/32" |
| Structure: | Roller Chain |
Samples:

US$ 9999/Piece

1 Piece(Min.Order)

|
Request Sample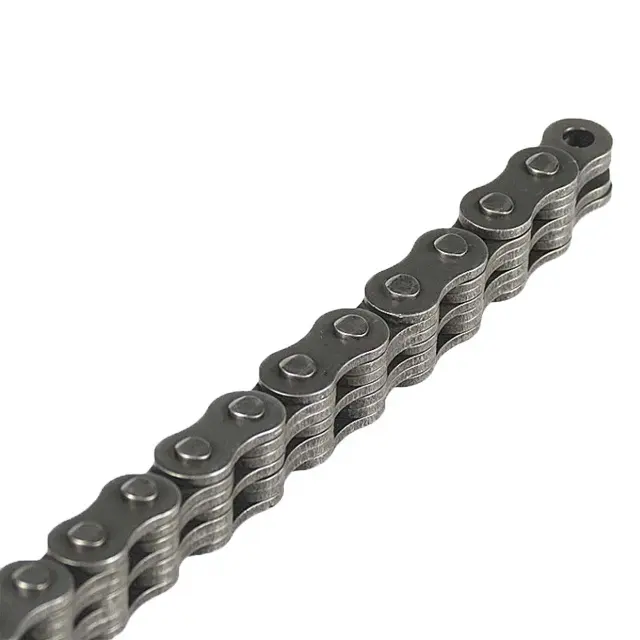 How do leaf chains handle lateral forces and side loads?
Leaf chains are designed to handle lateral forces and side loads efficiently, making them suitable for applications where these forces are present. The construction of leaf chains contributes to their ability to withstand such loads.
The unique design of a leaf chain consists of interlocking link plates with specially formed barrels. When the chain is subjected to lateral forces or side loads, the barrels provide additional support and prevent the chain from bending or kinking.
Moreover, leaf chains have relatively large bearing areas on the link plates, which distribute the load evenly across the chain's width. This characteristic allows leaf chains to effectively handle forces coming from different angles, ensuring smooth and reliable operation in challenging environments.
Leaf chains are commonly used in applications that involve side pulling, lifting, or tensioning, such as forklifts, aerial work platforms, and various material handling equipment. The ability to handle lateral forces and side loads makes leaf chains a preferred choice in situations where other types of chains might not perform as effectively.
However, it is essential to ensure that the selected leaf chain is properly sized and adequately lubricated for the specific application to maximize its performance and longevity.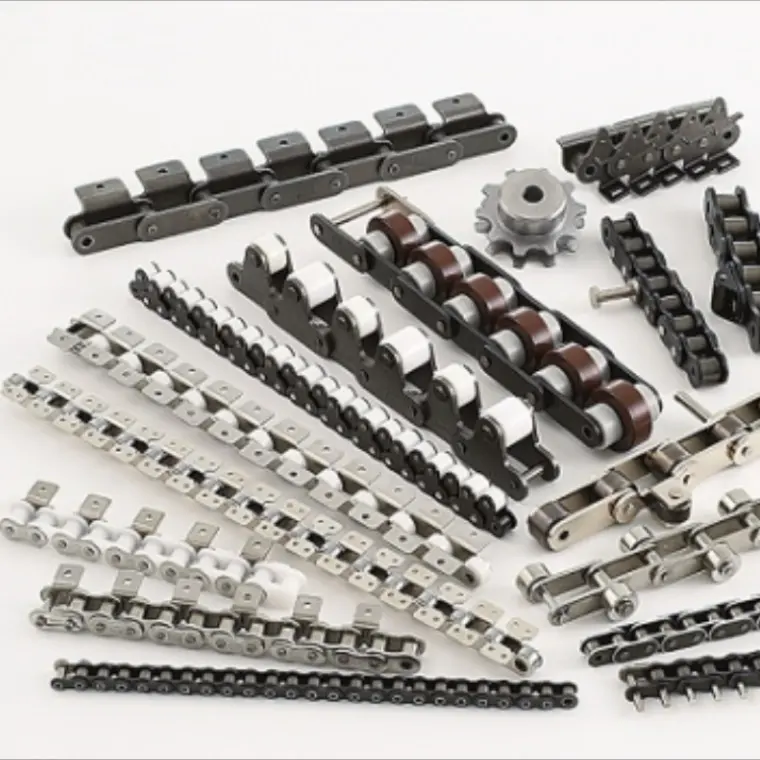 Can leaf chains be used in warehouse automation systems for order picking?
Yes, leaf chains can be used in warehouse automation systems for order picking. These systems often involve automated material handling equipment like conveyor systems, vertical lift modules (VLMs), or automated storage and retrieval systems (AS/RS).
Leaf chains are suitable for these applications due to their robust construction and ability to handle heavy loads. In warehouse automation, leaf chains are commonly utilized in vertical lifting applications, where they enable the smooth and reliable movement of goods between different levels of the facility.
Benefits of using leaf chains in warehouse automation systems include:
High Strength: Leaf chains are designed to handle high loads, making them ideal for lifting heavy items commonly found in warehouse environments.
Compact Design: Leaf chains have a relatively slim profile, which allows for efficient use of space in automated systems where space optimization is critical.
Reliability: Leaf chains are known for their durability and resistance to wear, ensuring reliable performance in demanding order picking operations.
Cost-Effective: Compared to other lifting options, leaf chains offer a cost-effective solution for warehouse automation applications.
Warehouse automation systems are designed to streamline order fulfillment processes, increase efficiency, and reduce manual labor. By using leaf chains in these systems, companies can improve their productivity and optimize material handling operations.
However, it's essential to choose the appropriate leaf chain size and specifications based on the specific requirements of the automation system and the loads being handled. Regular maintenance and inspections are also crucial to ensure the chains' proper functioning and to identify any signs of wear or damage that may occur over time.



editor by CX 2023-08-05