Product Description
Leaf Chain
Leaf chains are known for their durability and high tensile strength. They are primarily used in lift device applications such as forklifts, lift trucks, and lift masts. These hard working chains handle the lifting and balancing of heavy loads with the use of sheaves instead of sprockets for guidance. One of the primary differences with leaf chain compared to roller chain is that it only consists of a series of stacked plates and pins, providing superior lifting strength.
 
Leaf Chains and Strength
Leaf chains are famous with engineers for their strength in materials handling, such as with forklifts, lift trucks, lift masts, straddle carriers, and other major works of civil engineering. Their long service life, high fatigue strength and maximum wear resistance make them the ideal solution for long-term projects that need to be both reliable and incredibly strong. The compact design of leaf chains allows them to fit well within a variety of systems. The key parts of a leaf chain include:
Link Plates: Close control of the plate dimensions allows for high fatigue strength and long service life.
Pins: The pins pass through the plates and are subject to shearing forces, while the plates articulate on the pins through rotation over the sheave.
Leaf Chain AL Series or Leaf Chain BL Series
The American National Standards Institute (ANSI) determines consensus standards for a wide range of products and processes in the U.S. that are also adopted worldwide. This regulatory body provides the chain industry with specifics around size and strength that govern the manufacture of different types of chains, including leaf chains and roller chains. While these standards do not often change, AL Series was removed from ANSI Standard in 1975. The newer edition of the standard is BL Series, which replaced the AL Series. AL and BL Series are dimensionally different. BL Series has a higher tensile strength than AL Series and is more commonly used today. However, older machinery may still use the AL Series of leaf chain, which is still offered by HangZhou Star Machine Technology Co., Ltd. in a variety of different sizes.
When you need a leaf chain to keep your project in balance, contact the experienced professionals at HangZhou Star Machine Technology Co., Ltd. If you're not sure exactly what type or size of chain that you need, we have decades of experience working with customers to provide the ideal chain or sprocket to keep you moving.  We have a full line of Leaf AL Series Chains as well as Leaf BL Series Chains.
Chain
No.
 
Assembly
 
Pitch
A
Pin
Dia.
D
Plate
Overall Width
Maximum
Allowable
Load (lbs)
 
Average
Ultimate
Strength (lbs)
 
Average
Weight Per Foot (lbs)
Riveted
Height
H
Thickness
T
E
BL Series
BL-523
2X3
5/8
0.234
0.571
0.094
0.60
1,540
9,100
0.74
Leaf chains are built of interlaced plates held together by rivet pins. They are built with the same high degree of precision as our roller chains. HKK Leaf chains are used for applications that require strong flexible linkage for transmitting motion or lift. Specially selected steel and unique heat treatment assures high strength and durability. The first number or numbers in leaf chains identifies the chain pitch, the last 2 numbers identify the chain's lacing. New applications should use BL series leaf chains.
QUICK REFERENCE XIHU (WEST LAKE) DIS.
Leaf Chain is the most simple of steel chains, consisting only of link plates and pins. This chain generally has greater tensile strength than roller chains and runs over sheaves rather than sprockets. They are suitable for hanging, balancing or motion transmitting applications. Leaf chains are often used as counterweight chains for machine tools, elevator and oven doors, fork lift truck masts, spinning frames and similar lifting or balancing applications.
Plates are connected by pins and hold the tension loaded on the chain.
AL Type
Plate configuration and thickness are the same as ANSI G8 roller chain. Pin diameter is almost the same as ANSI G8 roller chain.
BL Type
BL Series leaf chains consist of link plates which are thicker and larger in contour than the AL Series link plates of the same pitch. The link plates have the same thickness as the link plates of the next larger pitch size in ANSI G8 roller chains. The pins have the same diameter as those of ANSI G8 roller chains of the next larger pitch.
For Applications That Required Strong Flexible Linkage | Ideal for Lifting Applications | Specially Selected Steel | Unique Heat Treatment Process
WHY CHOOSE US 
1. Reliable Quality Assurance System
2. Cutting-Edge Computer-Controlled CNC Machines
3. Bespoke Solutions from Highly Experienced Specialists
4. Customization and OEM Available for Specific Application
5. Extensive Inventory of Spare Parts and Accessories
6. Well-Developed CZPT Marketing Network
7. Efficient After-Sale Service System
The 219 sets of advanced automatic production equipment provide guarantees for high product quality. The 167 engineers and technicians with senior professional titles can design and develop products to meet the exact demands of customers, and OEM customizations are also available with us. Our sound global service network can provide customers with timely after-sales technical services.
We are not just a manufacturer and supplier, but also an industry consultant. We work pro-actively with you to offer expert advice and product recommendations in order to end up with a most cost effective product available for your specific application. The clients we serve CZPT range from end users to distributors and OEMs. Our OEM replacements can be substituted wherever necessary and suitable for both repair and new assemblies.
Shipping Cost:

Estimated freight per unit.





To be negotiated
| | |
| --- | --- |
| Standard or Nonstandard: | Standard |
| Application: | Textile Machinery, Garment Machinery, Conveyer Equipment, Packaging Machinery, Electric Cars, Motorcycle, Food Machinery, Marine, Mining Equipment, Agricultural Machinery, Car |
| Surface Treatment: | Baking Paint, Polishing |
Samples:

US$ 10/Meter

1 Meter(Min.Order)

|

Order Sample
Customization:

Available

|

Customized Request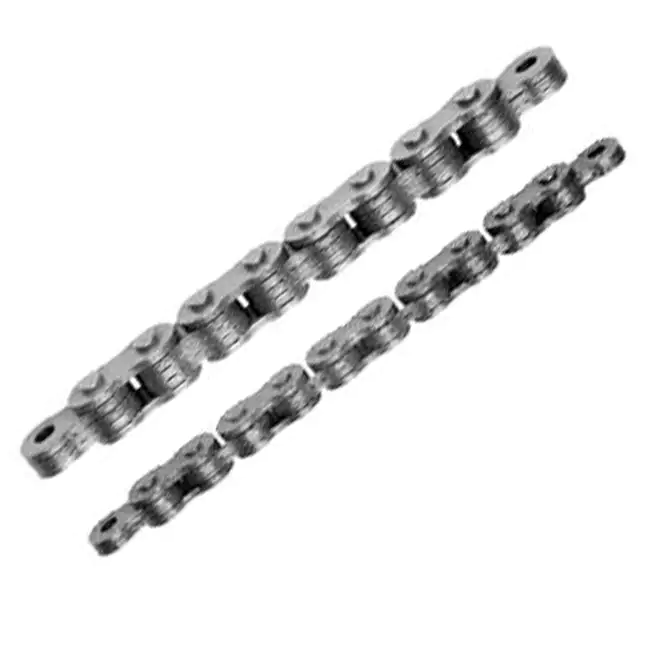 Can leaf chains be used in shipyard and marine lifting equipment?
Yes, leaf chains can be used in shipyard and marine lifting equipment, and they are commonly employed in various maritime applications due to their strength, durability, and ability to withstand harsh marine environments.
Shipyard and marine lifting equipment often require heavy-duty and reliable lifting systems to handle large loads and endure continuous operation. Leaf chains are well-suited for these demanding tasks due to their robust construction and high tensile strength.
Key reasons why leaf chains are suitable for shipyard and marine lifting equipment include:
Strength: Leaf chains are designed to handle high loads, making them ideal for lifting heavy components and equipment during shipbuilding and maintenance.
Durability: Leaf chains are made from high-quality materials and undergo precision manufacturing, resulting in a durable and long-lasting lifting solution.
Corrosion Resistance: Many leaf chains are treated with surface coatings or made from stainless steel, providing excellent resistance to corrosion in marine environments.
Self-Lubrication: Some leaf chains feature self-lubricating properties, reducing the need for frequent maintenance and ensuring smooth operation even in saltwater environments.
Reliability: Leaf chains have a simple design with fewer moving parts, minimizing the risk of failure and downtime in critical marine lifting operations.
Whether it's for shipbuilding, dockside operations, or marine equipment maintenance, leaf chains can contribute to the efficient and safe handling of loads in shipyard and marine lifting equipment.
In conclusion, leaf chains are a viable and reliable option for use in shipyard and marine lifting equipment, offering the strength, durability, and corrosion resistance required to withstand the challenging conditions of marine environments.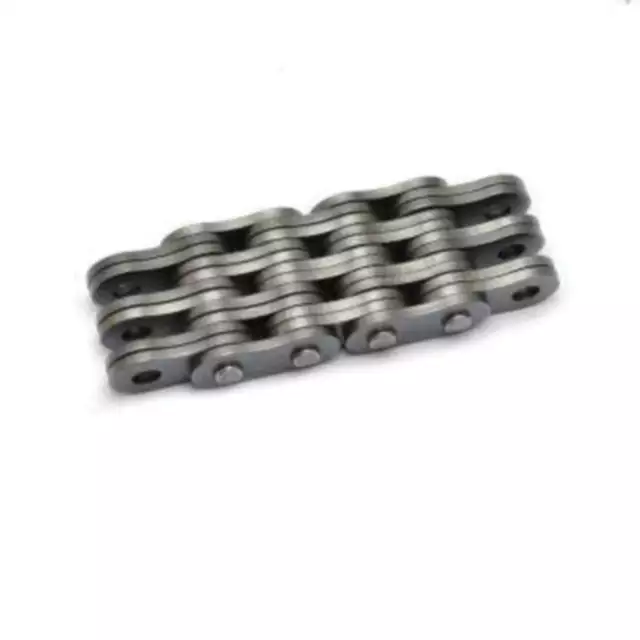 What are the safety certifications and standards for leaf chains?
Leaf chains used in lifting and rigging applications are subject to various safety certifications and standards to ensure their reliability and performance. Some of the common safety certifications and standards that apply to leaf chains include:
ISO 4347: This standard specifies the requirements and test methods for leaf chains for general lifting applications. It covers dimensions, strength, and performance characteristics to ensure safe usage.
ASME B29.8: The American Society of Mechanical Engineers (ASME) standard B29.8 covers leaf chains, including design, dimensions, and minimum performance requirements for leaf chains used in industrial applications.
EN 818: European Norm (EN) 818 defines the safety requirements for various types of lifting chains, including leaf chains, used in the European Union.
DIN 8152: Deutsches Institut für Normung (DIN) standard 8152 outlines the design and construction requirements for leaf chains used in lifting and materials handling.
CE Certification: Leaf chains, like other lifting equipment, may require CE certification to indicate compliance with European safety directives.
When selecting leaf chains for specific lifting applications, it is essential to ensure that they meet the necessary safety certifications and standards. Using certified leaf chains helps ensure the safety of lifting operations, reduces the risk of accidents, and provides confidence in the reliability and performance of the equipment.



editor by CX 2023-09-05