Product Description
TRANSMISSION ROLLER CHAIN
Feature
.  Long-life duration and high strength
.  Good performance of anti-rusty
.  Pre-stretching and running for each roll before delivery
.  All the chain parts are of complete heat-treatment and controlled within the standarded tolerance
.  Can produce any nonstandarded chain according to the drawing or sample
Production Range
1) A Series Short-Pitch Transmission Precision Roller Chain
25-1R, 35-1R, 40-1R, 50-1R , 60-1R, 80-1R, 100-1R, 120-1R, 140-1R, 160-1R, 180-1R, 200-1R, 240-1R
Double stand, triple strand are available
2). B Serieis Short-Pitch Transmission Precision Roller Chain
05B-1R, 06B-1R, 08B-1R, 10B-1R, 12B-1R, 16B-1R, 20B-1R, 24B-1R, 28B-1R, 32B-1R, 40B-1R, 48B-1R
Double stand, triple stand are available.
3). Short-Pitch Heavy Roller Chain
40H, 50H, 60H, 80H, 100H, 120H, 140H, 160H, 200H
4). Motorcycle Chain
25H, 219H, 420, 420H, 428, 428H, 520, 520H, 530, 530SH, 630
 
OTHER SERIES STEEL CHAIN
1. Conveyor chain: C2040, C2042, C2050, C2052, C2060, C2062, C2060H, C2062H, C2080, C2082, C2080H, C2082H, C2100, C2102, C2100H, C2120H, C2160, C2162, C2160H, C2162H, 
2. Hollow Pin Chain: C2040HP, C2050HP, C2042HP, C2052HP, C2060HP, C2062HP, C2080HP, C2082HP, 40HP, 50HP, 60HP, 80HP
3.  Agricultural Roller Chain: S32, S42, S45, S52, S55, S62, S77, S88, C550, C620, CA550, CA557, CA620
 
4. Welded Steel Cranked Link Mill Chain: W78, W82, W110, W111, W124, W132
5. Leaf Chain: BL622, BL623,BL634, BL644, BL646, BL666, BL688, BL822, BL823, BL834, BL844, BL846, BL866, BLF888, BL1571, BL1034, BL1046, BL1066, BL1222, BL1244, BL1288, BL1422, BL1444, BL1488, BL1622, BL1644, BL1688, BL2571, BL2034, BL2066, BL2088
6. Drop Forged Chain: X348, X458, X678, X689
7.  Chain Coupling: 4012, 4014, 4016, 5014, 5016, 5018, 6018, 6571, 6571, 8018, 8571, 8571, 10571, 12018
 
FAQ
Q1.  Can I have a sample order?
        Yes, any sample order is welcome to know the quality of our products.
Q2.  What about the lead time of the sample or the final order?
        2-5 days for normal sample.
        20-30 days for a formal order.
Q3. How much is the minimum quantity for each item in 1 order?
       Any quantity is ok to run.
Q4. Is it possible to print our logo or brand on the belt?
       Yes, we can print your logo or design on the belt after receipt of your formal authorization  letter of the logo or your brand.
Q5. Do you offer the guarantee for your product?
       Yes, usually we offer 1 year warranty for all of our products.
| | |
| --- | --- |
| Standard or Nonstandard: | Standard |
| Application: | Textile Machinery, Conveyer Equipment, Motorcycle, Food Machinery, Mining Equipment, Agricultural Machinery |
| Surface Treatment: | Polishing |
| Structure: | Roller Chain |
| Material: | Carbon Steel |
| Type: | Short Pitch Chain |
Samples:

US$ 0/Piece

1 Piece(Min.Order)

|
Request Sample
Customization:

Available

|

Customized Request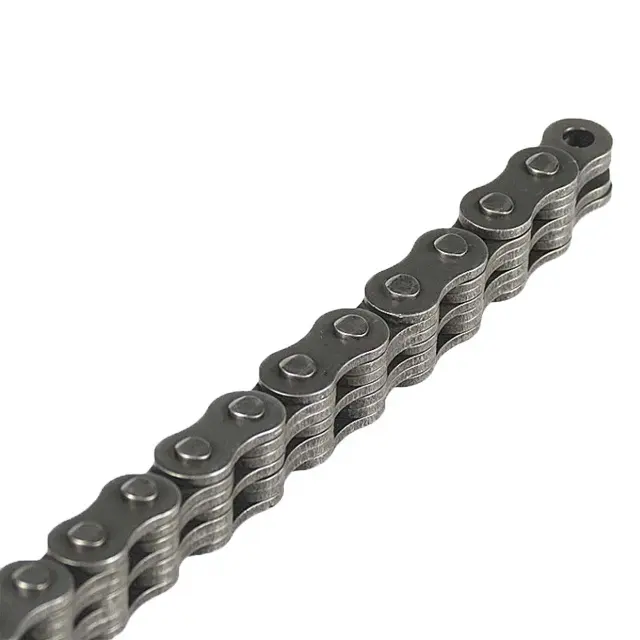 How do leaf chains handle lateral forces and side loads?
Leaf chains are designed to handle lateral forces and side loads efficiently, making them suitable for applications where these forces are present. The construction of leaf chains contributes to their ability to withstand such loads.
The unique design of a leaf chain consists of interlocking link plates with specially formed barrels. When the chain is subjected to lateral forces or side loads, the barrels provide additional support and prevent the chain from bending or kinking.
Moreover, leaf chains have relatively large bearing areas on the link plates, which distribute the load evenly across the chain's width. This characteristic allows leaf chains to effectively handle forces coming from different angles, ensuring smooth and reliable operation in challenging environments.
Leaf chains are commonly used in applications that involve side pulling, lifting, or tensioning, such as forklifts, aerial work platforms, and various material handling equipment. The ability to handle lateral forces and side loads makes leaf chains a preferred choice in situations where other types of chains might not perform as effectively.
However, it is essential to ensure that the selected leaf chain is properly sized and adequately lubricated for the specific application to maximize its performance and longevity.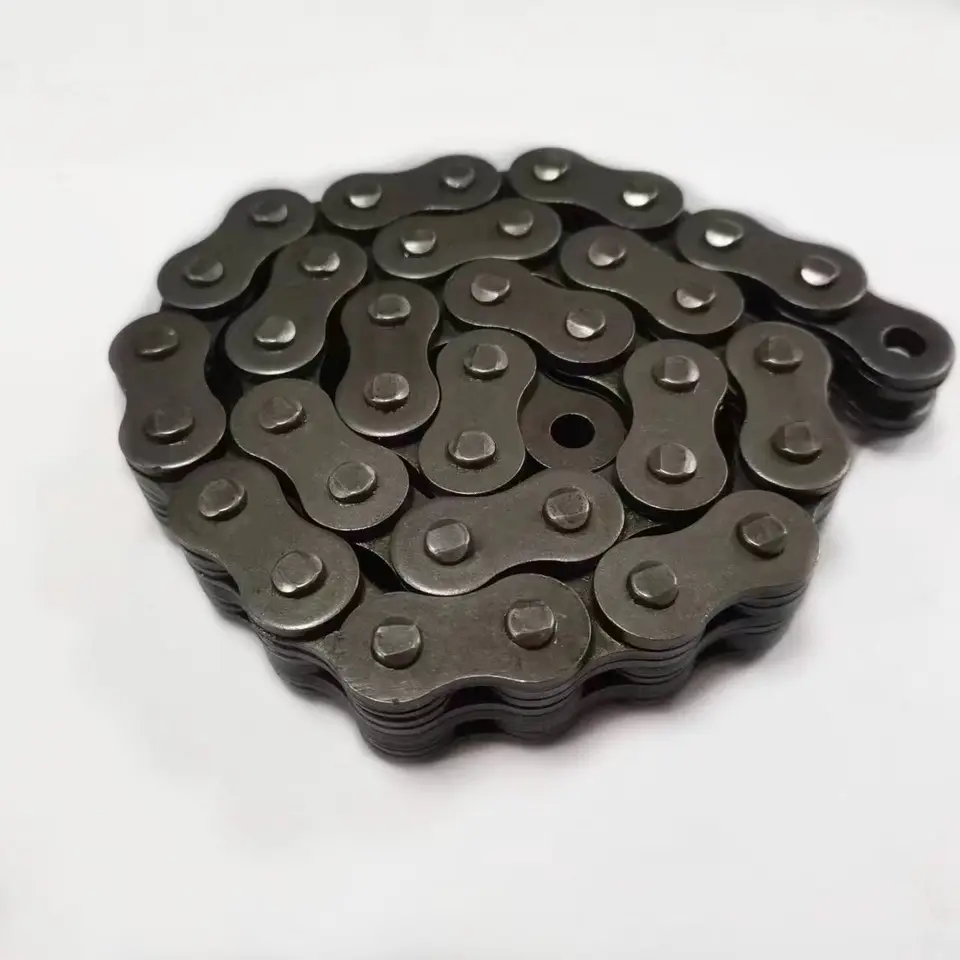 Can leaf chains be used in aircraft maintenance and repair operations?
Yes, leaf chains can be used in aircraft maintenance and repair operations. These chains are versatile and find applications in various industries, including aerospace.
Here's why leaf chains are suitable for aircraft maintenance and repair:
Strength and Reliability: Aircraft maintenance involves lifting and supporting heavy components, such as engines and landing gear. Leaf chains are known for their high tensile strength and reliability, making them capable of handling the demanding loads in aviation.
Precision and Stability: In aircraft maintenance, precision is crucial to ensure safety and accuracy. Leaf chains offer stability and consistent performance, which are essential when performing delicate tasks on aircraft.
Smooth Operation: Leaf chains have a smooth surface finish, minimizing friction during lifting operations. This feature is beneficial when maneuvering aircraft parts with care.
Corrosion Resistance: Some aircraft maintenance operations might involve exposure to environmental factors or chemicals. Leaf chains can be treated with protective coatings or made from corrosion-resistant materials to withstand such conditions.
Space Constraints: Aircraft maintenance areas often have limited space, and leaf chains can be designed in compact sizes, making them suitable for such confined environments.
It's important to ensure that the leaf chains used in aircraft maintenance comply with relevant industry standards and safety regulations. Regular maintenance and inspections are also essential to keep the chains in optimal condition.
In conclusion, leaf chains can be a reliable choice for aircraft maintenance and repair operations, contributing to the efficiency and safety of the maintenance processes.



editor by CX 2023-09-07