Product Description
| | | | | | | | |
| --- | --- | --- | --- | --- | --- | --- | --- |
| MODEL | P | T | t | h | H | b | d |
| S16 | 100 | 30 | 15 | 27 | 8 | 16 | 14 |
| P102-W385 | 102 | 30 | 13 | 27 | 9 | 14 | 14 |
| RUS270 | 123 | 50 | 24 | 46 | 16 | 25 | 20  20.5 |
| Z20 | 125 | 50 | 24 | 48 | 15 | 26 | 20 |
| P140 | 140 | 78 | 31 | 50 | 19 | 32 | 25 |
| Z30 | 142 | 64 | 28.5 | 50 | 18 | 30.5 | 25 |
| 150 | 150 | 38 | 18 | 40 | 10 | 20 | 18 |
| P155 | 155 | 79 | 39.5 | 63.5 | 36 | 40.5 | 30 |
| Z25 | 160 | 58 | 28 | 55 | 18 | 30 | 25 |
| YD310 | 200 | 43 | 20 | 47 | 12 | 22 | 20 |
| A-3634 | 216 | 64 | 26 | 72 | 20 | 28.5 | 35 |
| X63 | 250 | 60 | 28 | 70 | 20 | 30 | 25 |
| P260 | 260 | 72 | 32 | 75 | 20 | 34 | 32 |
         ZheJiang CZPT Precision Casting and Forging Inc. was established in 2003, covering an area of 40,000 square meter with 300 employees. In 2571, the company passed the quality management system certification of GB/T 19001-2016 and ISO 9001:2015, and has a number of invention patents.It is a national high-tech enterprise.
        Our main products are bucket teeth,side teeth,bucket adapter for excavator and loader; Forged pipe coupling for concrete pump ; Drop forged chain for scraper conveyor, etc. Other casting and forging parts canalsobecustomized accordingto customer drawings. The main materials are alloy steel, high manganese steel, gray iron, ductile iron, etc.
       Our company can produce casting range in 0.1kg-2tons, forging range in 0.1kg-100kgs, casting and forging annual capacity of 10,000tons.From productdesign, mold development to heattreatment, machining and spraying, we provide the whole processof internal manufacturing to better control the cost and quality.
       ZheJiang Plus Import and Export Trading Co., Ltd. was established in 2571, is Wanxin's subsidiary, mainly responsible for marketing and export.

FAQ
Q1.Are you a manufacturer or a trading company?
we are totally manufacturer of machinery parts.
Q2.Can i get samples for checking the quality?
we can provide free samples,but you need to pay the freight.
Q3.What's your MOQ?
For normal prodcuts,we don't have MOQ.
For customerized products,we will tell you MOQ based on your drawing.
Q4.What's your delivery time?
it's about 7-45 days based on your quantity.
Q5.What's your payment terms?
AmountAmount≥5000USD,T/T 30% as deposit,balance before delivery.
| | |
| --- | --- |
| Material: | Stainless Steel |
| Structure: | Welded Chain |
| Surface Treatment: | Polishing |
| Chain Size: | 1/2"*3/32" |
| Feature: | Oil Resistant |
| Transport Package: | Carton Box |
Samples:

US$ 100/Piece

1 Piece(Min.Order)

|
Request Sample
Customization:

Available

|

Customized Request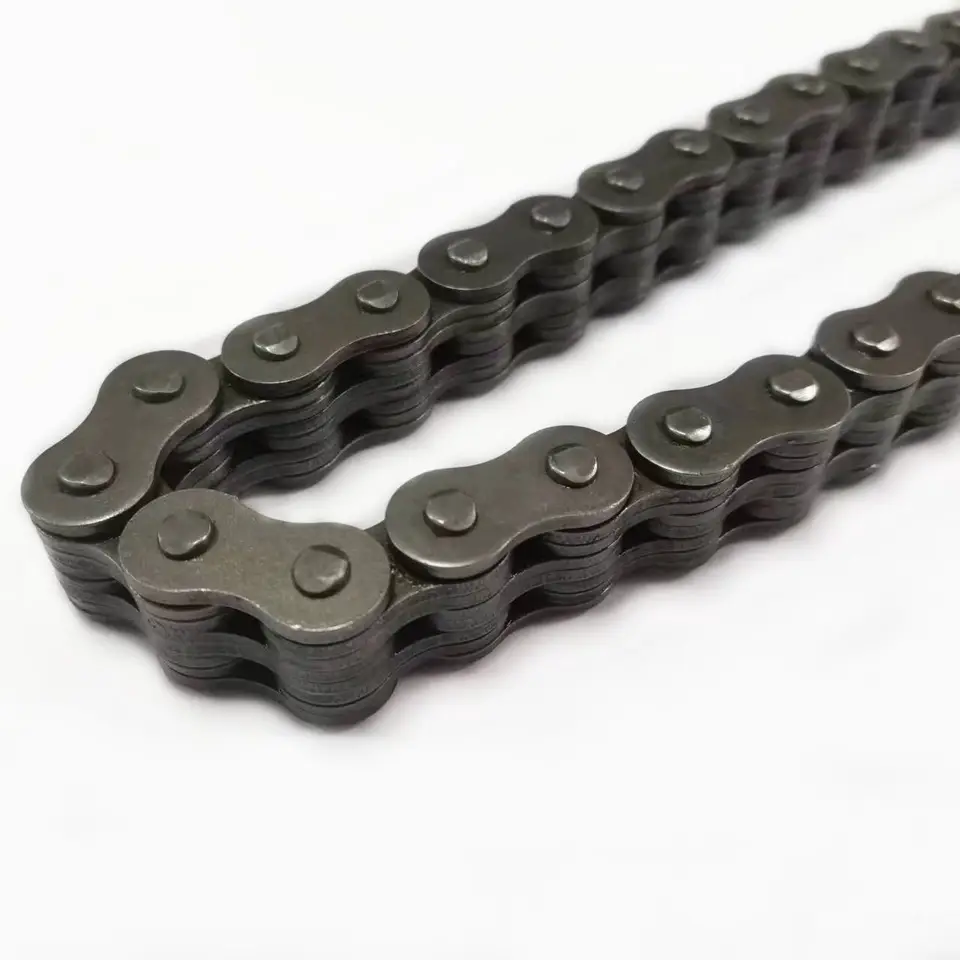 What are the environmental considerations when using leaf chains?
When using leaf chains, several environmental factors should be taken into account to ensure optimal performance and longevity:
1. Temperature and Weather Conditions: Leaf chains may be exposed to a wide range of temperatures, from extreme cold to high heat. Adequate lubrication and material selection are essential to prevent chain failure in extreme weather conditions.
2. Corrosion and Chemical Exposure: In environments with high humidity, moisture, or chemical exposure, leaf chains may be susceptible to corrosion and degradation. Choosing corrosion-resistant materials and regular maintenance can mitigate these effects.
3. Contaminants and Dust: Dust, dirt, and other contaminants can accumulate on the chain, leading to accelerated wear and reduced performance. Regular cleaning and lubrication are vital to prevent premature failure.
4. Load and Usage Patterns: Consider the load capacity and usage patterns of the chain in the specific environment. Heavy loads, continuous operation, and shock loads can impact the chain's wear rate and fatigue life.
5. Environmental Regulations: Some applications, such as those in the food or pharmaceutical industries, may have strict regulations regarding the materials and lubricants used in the chains to ensure they are safe for use in such environments.
6. Noise and Vibration: Certain environments may have noise and vibration restrictions. Proper chain maintenance and lubrication can help reduce noise levels and vibration.
7. Sustainability: Consider the environmental impact of chain materials and lubricants used. Opt for environmentally friendly options when possible to promote sustainability.
Overall, understanding the environmental conditions and selecting the appropriate chain materials and lubrication are crucial to ensure leaf chains perform optimally and have an extended service life in various applications. Regular inspection, maintenance, and compliance with environmental regulations will contribute to safe and efficient chain operation while minimizing the impact on the surrounding environment.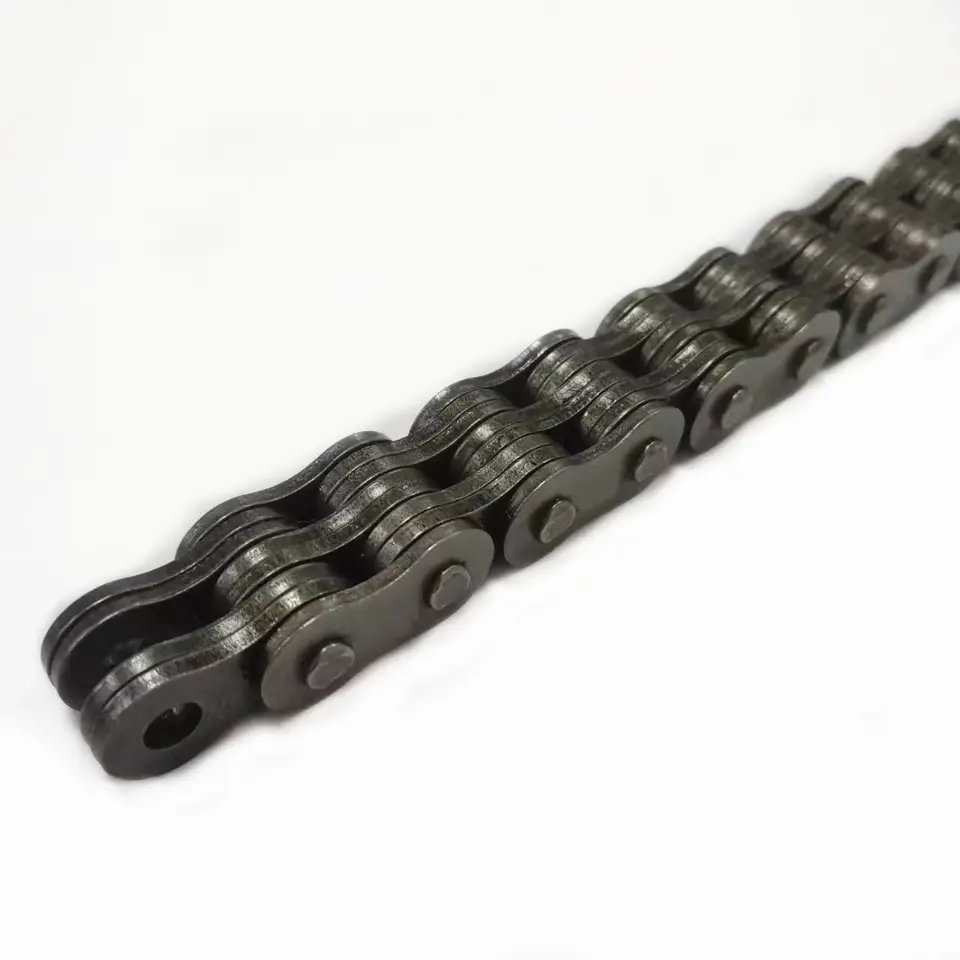 Can leaf chains be used in loading dock equipment for material handling?
Yes, leaf chains can be used in loading dock equipment for material handling. Loading dock equipment, such as dock levelers and loading ramps, are essential for the efficient and safe loading and unloading of goods onto trucks or trailers.
Leaf chains are well-suited for these applications due to their high strength, durability, and ability to handle heavy loads. They are commonly used in scissor lift mechanisms, which are often integrated into loading dock equipment to provide adjustable height and smooth material transfer.
The advantages of using leaf chains in loading dock equipment include:
High Load Capacity: Leaf chains are designed to handle heavy loads, making them ideal for supporting the weight of goods being transported on and off trucks.
Reliability: In loading dock applications, reliability is crucial to ensure a smooth and efficient workflow. Leaf chains offer a dependable solution with minimal downtime.
Shock Absorption: Loading dock equipment can experience dynamic forces and impacts during loading and unloading. Leaf chains have good shock absorption properties, reducing stress on the equipment and increasing its lifespan.
Flexibility: Leaf chains can accommodate various configurations and are available in different sizes and specifications to fit different loading dock equipment designs.
Easy Maintenance: Maintenance is simplified with leaf chains, allowing for quick inspection and replacement if needed, minimizing maintenance costs and downtime.
Cost-Effective: Leaf chains provide a cost-effective solution for material handling in loading dock equipment, offering reliable performance at a reasonable price.
Overall, leaf chains are a practical and efficient choice for material handling in loading dock equipment. Their strength, reliability, shock absorption capabilities, flexibility, ease of maintenance, and cost-effectiveness make them well-suited for supporting the smooth and safe transfer of goods at loading docks.



editor by CX 2023-08-29