Product Description
Item
Leaf Chains
Application
Machinery Parts
Surface Teatment
Self-color/Sand-blasted/Shot-peening
Brand
OEM
Package
Poly bag, then box, finally poly-wooden case
Port
Any sea port or airport in China
Size
LH:
LH0822,LH0823,LH571,LH0844,LH0846,LH0866,LH 0571 ,LH1571,LH1571,LH1034,LH1044,
LH1046,LH1066,LH1088,LH1222,LH1223,LH1234,LH1244,LH1246,LH1266,LH1288,LH1622,
LH1623,LH1634,LH1644,LH1646,LH1666,LH1688,LH2571,LH2571,LH2034,LH2044,LH2046,
LH2066,LH2088,LH2422,LH2423,LH2434,LH2444,LH2446,LH2466,LH2488,LH2822,LH2823,
LH2834,LH2844,LH2846,LH2866,LH2888,LH3222,LH3223,LH3234,LH3244,LH3246,LH3266,
LH3288,LH4571,LH4571,LH4034,LH4044,LH4046,LH4066,LH4088
BL:
BL422,BL423,BL434,BL444,BL446,BL488,BL522,BL523,BL534,BL544,BL546,BL566,BL588,
BL622,BL623,BL634,BL644,BL646,BL688,BL822,BL823,BL834,BL844,BL846,BL866,BL888,
BL1571,BL1571,BL1034,BL1044,BL1046,BL1088,BL1222,BL1223,BL1234,BL1244,BL1246,
BL1266,BL1288,BL1422,BL1423,BL1434,BL1444,BL1446,BL1488,BL1622,BL1623,BL1634,
BL1644,BL1646,BL1666,BL1888,BL2571,BL2571,BL2034,BL2044,BL2046,BL2088
LL:
LL0622,LL0644,LL0666,LL0822,LL0844,LL0866,LL 0571 ,LL1571,LL1044,LL1066,LL1088,LL1222
LL1244,LL1266,LL1288,LL1622,LL1644,LL1666,LL1688,LL2571,LL2044,LL2066,LL2088,LL2422
LL2444,LL2466,LL2488,LL2822,LL2844,LL2866,LL2888,LL3222,LL3244,LL3266,LL3288,LL4571
LL4044,LL4066,LL4088,LL4822,LL4844,LL4866,LL4888
AL:
AL322,AL344,AL422,AL444,AL466,AL522,AL534,AL544,AL566,AL622,AL644,AL666,AL688
AL822,AL844,AL866,AL888,AL1571,AL1044,AL1066,AL1088,AL1222,AL1244,AL1266,AL1288,
AL1444,AL1466,AL1644,AL1666,AL1688
FL:
FL644,FL666,FL688,FL523,FL844,FL922,FL944,FL945,FL956,FL966,FL988
| | |
| --- | --- |
| Material: | Iron |
| Structure: | Leaf Chain |
| Surface Treatment: | Polishing |
| Chain Size: | P9.525-P76.20 |
| Feature: | Fire Resistant, Oil Resistant, Heat Resistant |
| Transport Package: | Poly Bag, Box, Poly-Wooden Case |
Samples:

US$ 10/Several Links

1 Several Links(Min.Order)

|
Request Sample
Customization:

Available

|

Customized Request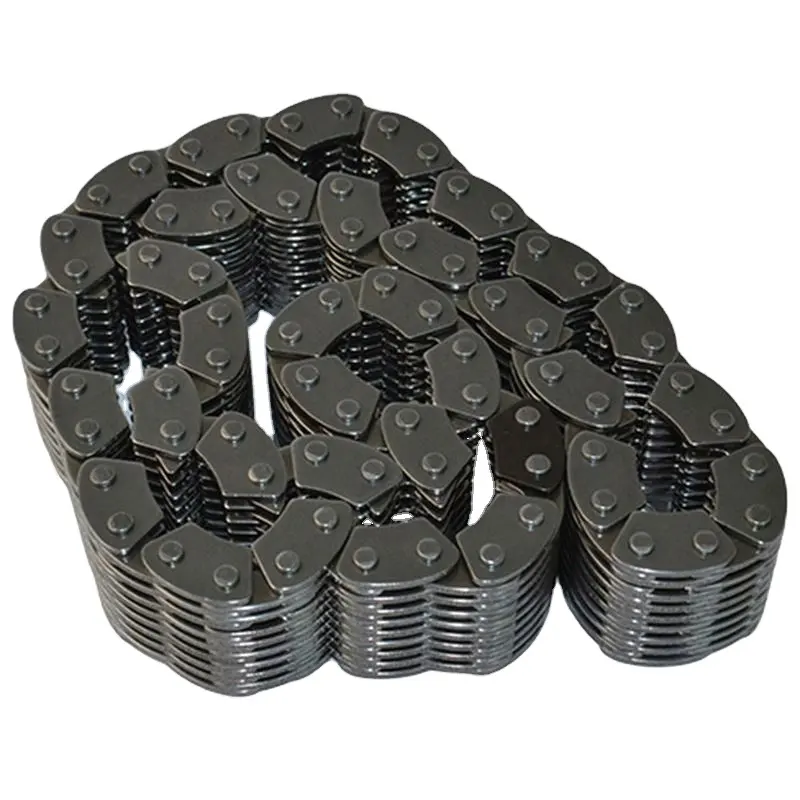 Can leaf chains be used in agriculture equipment for lifting and hoisting?
Yes, leaf chains can be used in agriculture equipment for lifting and hoisting purposes. They offer several advantages that make them suitable for various agricultural applications:
High Load Capacity: Leaf chains have a high tensile strength and can withstand heavy loads, making them ideal for lifting and hoisting tasks in agriculture.
Durability: Agriculture equipment often operates in challenging environments, and leaf chains' durable construction allows them to withstand the rigors of agricultural applications.
Corrosion Resistance: Some leaf chains come with protective coatings or materials that offer excellent corrosion resistance, ensuring longevity even in outdoor and corrosive agricultural settings.
Adaptability: Leaf chains can be customized to fit different agricultural equipment designs and lifting requirements, providing flexibility in their use.
Reliable Performance: Farmers and agricultural workers rely on equipment that performs consistently and safely. Leaf chains' reliable operation ensures smooth lifting and hoisting operations in the field.
In agriculture, leaf chains can be found in various equipment such as agricultural tractors, combine harvesters, grain elevators, and other machinery used for lifting heavy loads, adjusting implements, and performing various tasks in the field. Their robust design and ability to handle high loads make them an excellent choice for lifting and hoisting applications in the agricultural industry.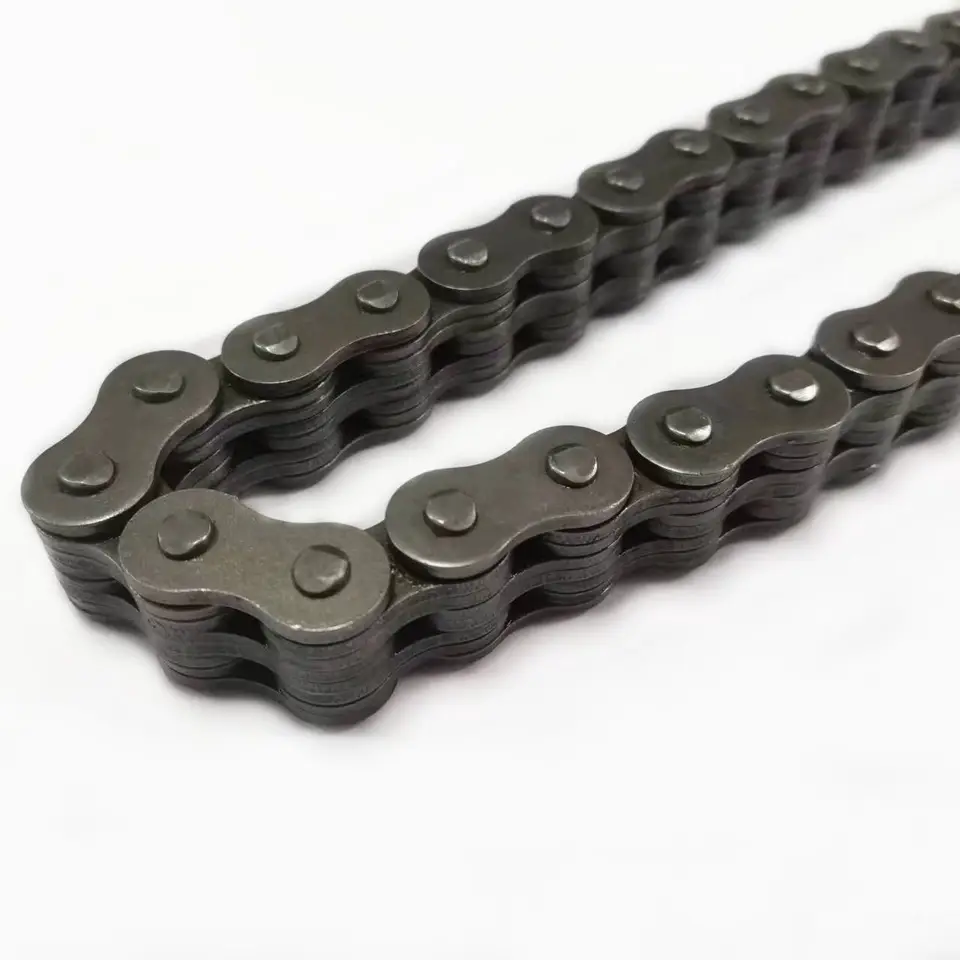 How do leaf chains handle high-torque and heavy lifting applications?
Leaf chains are well-suited for high-torque and heavy lifting applications due to their robust construction and high tensile strength. These applications often require lifting and moving heavy loads, which subject the chains to significant stress and forces.
Here's how leaf chains excel in such demanding conditions:
High Tensile Strength: Leaf chains are made from hardened alloy steel, which gives them exceptional tensile strength. This enables them to withstand heavy loads without elongation or deformation.
Fatigue Resistance: Heavy lifting applications involve cyclic loading, which can lead to fatigue failure in lesser chains. Leaf chains are designed to resist fatigue, ensuring reliable performance even under continuous heavy lifting.
Wear Resistance: Leaf chains undergo special heat treatment processes that enhance their wear resistance. This is crucial in high-torque applications where the chains interact with sprockets or sheaves frequently.
Shock Absorption: Heavy lifting can result in sudden impacts and shocks. Leaf chains have the ability to absorb and dissipate some of these forces, reducing stress on the equipment and increasing chain longevity.
Surface Finish: Leaf chains typically have smooth surface finishes that minimize friction and wear, particularly when they are in contact with other components during heavy lifting operations.
In high-torque and heavy lifting applications, it is essential to select the appropriate leaf chain size and specification to ensure it can handle the intended load capacity. Proper lubrication and regular maintenance are also crucial to maximizing the chain's lifespan and performance in such challenging conditions.
Overall, leaf chains provide a reliable and durable solution for high-torque and heavy lifting applications, making them a popular choice in industries that require the handling of substantial loads with precision and safety.



editor by CX 2023-09-19